Introduction of BK117-D3 Type Helicopter
---
BK117 D-3 - A New Grade Displaying Powerful and Quiet Flight.
High reliability and cutting-edge technology.
Since being launched by Kawasaki Heavy Industries as Japan's first domestic helicopter in 1982,
the multi-use twin-engine "BK117 series" has become a best-selling helicopter that is utilized in a wide range of fields across the globe including firefighting, police, EMS, news, and VIP transport.
The H145/BK117 D-3 is a fusion of the high reliability and the latest technology cultivated to date.
The H145/BK117 D-3 comes equipped with the latest main rotor system, thereby substantially improving operational capacity and comfort.
---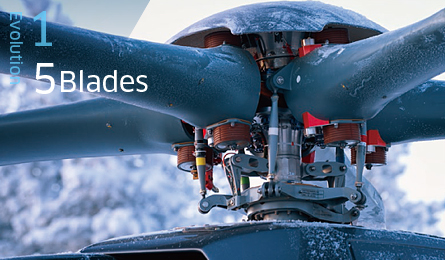 Shortened maintenance period
Maintenance time is reduced significantly thanks to a state-of-the-art main rotor system which exhibits excellent maintainability.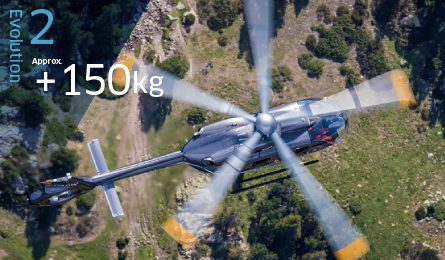 In comparison to the D-2, the effective loading weight of the D-3 is increased by 150 kg due to a 100 kg increase in the maximum total weight and a 50 kg decrease in the aircraft weight.
---
Expansive, Flexible Cabin Arrangement Provides Multi-Role Capability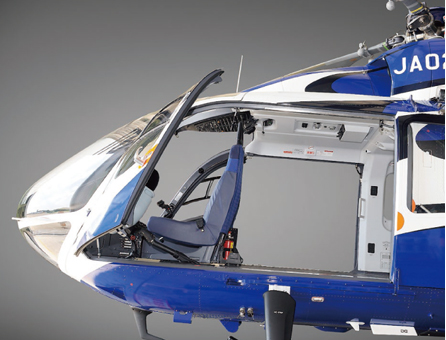 The large cabin doors open up to a fully flat floor that extends from the cockpit.
In order to match a multitude of uses, the D-3 is fully equipped with rails for attaching seats and special equipment, which enable a flexible cabin layout.
The D-3 comes standard equipped with impact-resistant seats.


---
Smooth-Access Dual Cargo Doors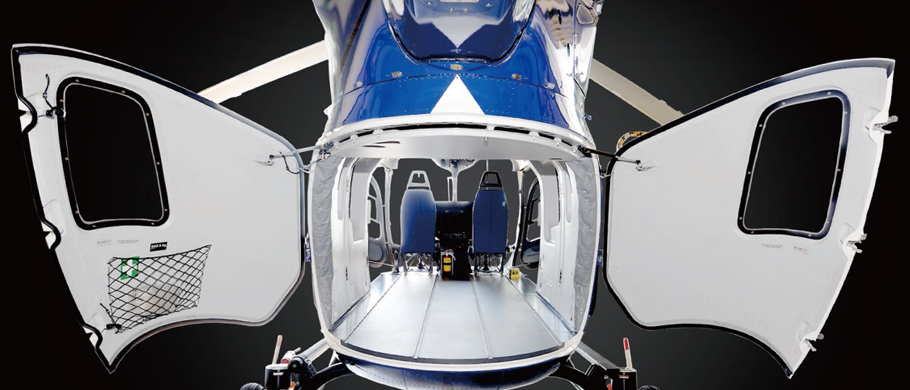 Integration of the cabin and cargo compartment provides a fully flat floor and spacious cabin space.
| | |
| --- | --- |
| floor space 5.1 m2 | Capacity 6.0 m3 |
---
High-Performance Avionics that Achieve Superior Safety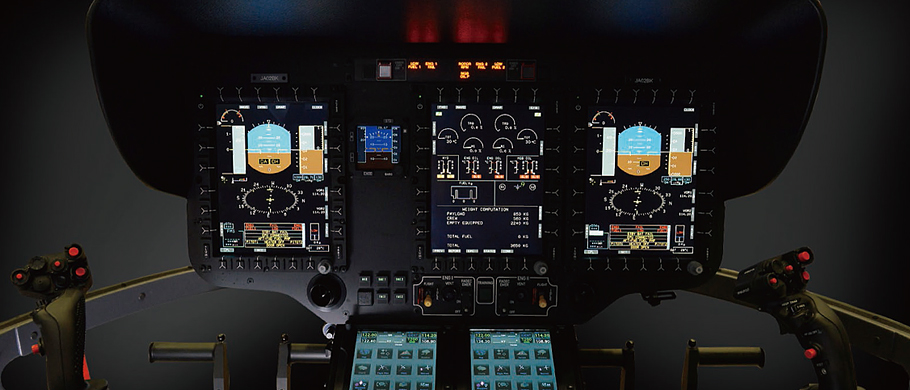 Reduce pilot workload
The cockpit is simplified through the use of Helionix.
Pilot workload has been reduced by such measures as easier-to-see instrument flight, the installation of a high-performance 4-axis autopilot, and the adoption of FADEC.

H-TAWS
Helicopter Terrain Awareness and Warning System (H-TAWS)
H-TAWS monitors the distance to terrain and obstacles, and then identifies these objects on a map display. In addition, H-TAWS provides terrain avoidance warnings to the pilot using voice messages.

Synthetic Vision System (SVS) Function
3D color map with sun-angle shadow
The SVS function superimposes a three-dimensional (3D) image of the external environment around the helicopter onto the display at the pilot's seat to improve the pilot's awareness of the situation outside the aircraft.
---
Pinnacle of Noise Reduction
Noise has been dramatically reduced via measures such as the use of Fenestron.
The BK117, which is the quietest aircraft in the TA class and is renowned for its low-noise performance, is now even quieter.
---
Expanded safety performance
The D-3 is equipped with Arriel 2E engines, which have higher power output than the previous model.As such, powerful operation is possible, even if issues occur in one engine.
Reduced maintenance costs
Lower maintenance costs have been realized by improving the reliability and durability of the engines and thereby lengthening maintenance intervals.
Improved hovering performance
Hovering performance has been improved by enhancing engine and gearbox performance.
One-Engine-Inoperative(OEI)
Rated Output
30 sec.

1,072

Shp /

800

kW
2 min.
1,039 Shp / 775 kW
---

The D-3 demonstrates versatile performance in a wide array of uses such as firefighting/disaster prevention, police, news, personnel transportation, and offshore wind power.
---
Performance Specifications
Weight

Maximum total weight

3,800kg

Cabin

Number of seats

(maximum number of seats)

10 person
(12 person)

Cabin length

(internal dimensions)

3.57 m

Cabin width

(internal size, minimum value)

1.40 m

Dimensions

Overall length

(When rotor is rotaring)

13.54m

Fuselage width

(not including skid)

1.73m

Performance

Fuel tank capacity

723kg (904 L )
※ Reference values: Maximum total weight, standard tank, ISA + 20 ℃, 5000ft
---
If you need more information about our business, please feel free to contact us.